Whether you're a small business or a large multi-national company, taking great care over your logo design is something all businesses should do.


If you think of the Nike 'tick' or McDonald's golden arches, you instantly know and recognise that brand without even seeing the name of the company.
These logos have become synonymous with people from all walks of life. This type of recognition is what all businesses strive for when it comes to creating a logo, a brand identity.
Many of the world's most famous logo's are slow burners that took time to gain meaning and power. Nike's co-founder, Phil Knight, bought their logo from a graphic design student at Portland State University. He commented saying "I don't love it, but maybe it will grow on me". Low and behold, the Nike 'tick' became one of the most recognisable logos in the world.
A harsh lesson


Consumers can become very attached to a particular brand, and changing such a beloved brand should never be undertaken without knowing your audience's true feelings.
In 2010, the clothing brand Gap learned this lesson the hard way. A new logo was unveiled by Gap, switching from it's original logo with all uppercase, to logo with lower cases and a small blue square behind the letter 'p'.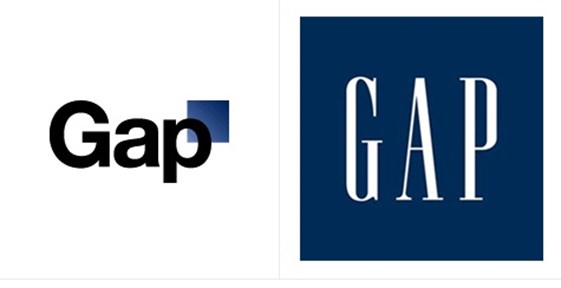 After the unveiling, there was such outcry that Gap scrapped the change just a week later. With the words "cheap, tacky and ordinary" thrown around online, executives at Gap had to quickly withdraw the latest logo in order to salvage their brand.
Thankfully for Gap themselves, the new logo hadn't been rolled out worldwide.
Robert Jones, a professor of branding at the University of East Anglia said "Your logo is how people recognise you, and it helps express how you're different from your rivals - warmer, greener, stronger, and so on.".
And this could not ring more true. Your logo will be one of the first things customers will associate with your company. If it gives off the wrong impression from the get go, you're already on the back foot.
Where to start


There are many avenues to go down when it comes to logo design. You could create something yourself by using a free tool such as SquareSpace's Logo Design. This approach however, renders you with numerous problems.
Firstly, the low price of £0 will only grant you access to a low-res, watermarked version of your design. The high-res image will set you back around £10, which at first may seem worthwhile, but it's essentially worthless.
All of SquareSpace's icons used in the free tool are sourced from The Noun Project, which are stock images. This means that you will never own the rights to your logo which can allow any other company to use the exact same icon you have used and there is nothing you can do about it.
An alternative to trying to produce your own logo is to use sites like Fiverr.com. Fiverr is a marketplace where people sell their services for as low as $5. Amongst the various sections on their website such as "Digital Marketing" and "Writing & Translation", there sits "Logo Design" which looks all too appealing.
For some, the age old saying "too good to be true" rings loudly, while others may see an opportunity.
Luckily for us, Sacha Greif over at Folyo.me was so intrigued with the idea that you could get a logo design for $5 that he decided to purchase some for himself and his made up company "SkyStats".
To put it short, what he received back were logo designs that were poor, unusable, more expensive than initially thought and just plain plagiarised. The platform may be useful for generating initial ideas such as colour schemes and general icon shapes, but that's as best as it would get.
How we can help


While we can't boast the low low prices of such places like Fiverr and SquareSpace, what we can shout about is our ability to tackle your logo design with a strategic perspective that will aim to convey your business beliefs and culture.
Whether you're a new company looking to build a brand new identity, or you're an existing business that already has brand guidelines established and wish to rebrand, we can help.
Our skilled graphic designers will work with you to create a brand that will leave a lasting impression on your audience.
See below examples of logos we have created for all manner of businesses.


Contact us via phone (01234 834829) or email (hi@aptitude.co.uk) and let us help build your new brand, today.